PROGRAMMING
Programming is the research and decision-making process that identifies the scope of work to be designed, developing an itemized breakdown of space types and their required areas, performance criteria for structural, mechanical, electrical, plumbing, accessibility, sustainability, adjacencies of spaces, code requirements, and furnishings, fixtures and equipment. 
CONCEPTUAL AND SCHEMATIC DESIGN
In this initial phase of the design process, we establish the general scope, conceptual ideas, scale and relationship of various program elements. The primary objective is to arrive at a clearly defined feasible concept based on the most promising design solutions. Our design team will typically prepare a series of preliminary plans, 3-d models, drawings, and other illustrations to help the owner visualize the project. This process can help gain basic insights on everything from material choices to budget.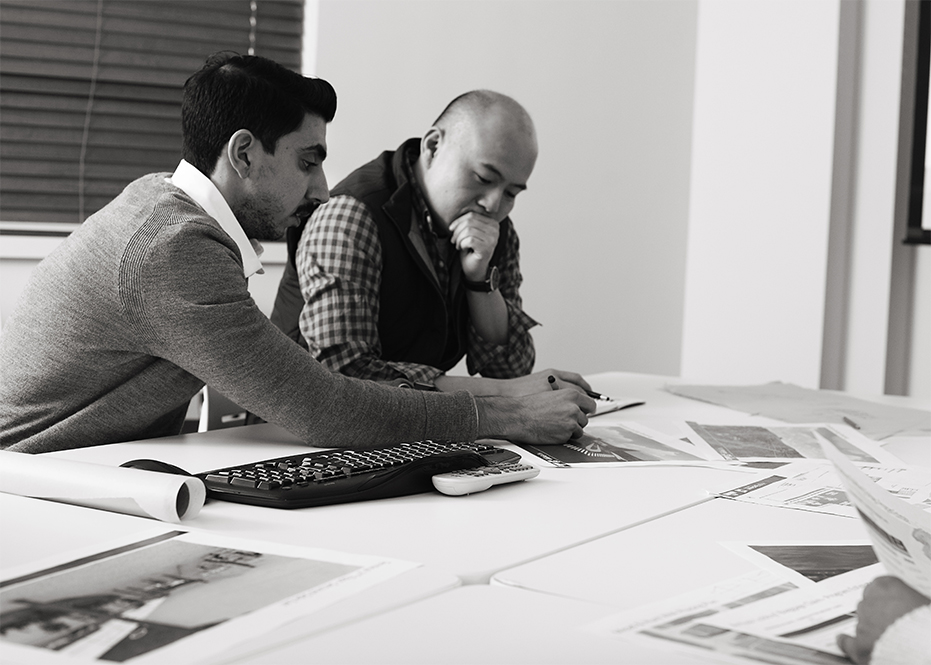 DESIGN DEVELOPMENT
We take the information from the Schematic Design phase and refine and develop the project, determining finishes, materiality, and system integration. This phase is a critical part of the architectural process, saving time and money in the later phases of design and construction. An outline architectural drawing set including site plan, floor plans, sections, elevations, and details will be generated and will include structural engineering, MEP, and sometimes civil engineering drawings.
CONSTRUCTION DOCUMENTS
Our firm has established a reputation for extremely accurate and thorough construction documents, which eliminates confusion and reduces change orders in project construction. 
This is the final step that produces a set of drawings and specifications that will designate every element of the project, from the structure and MEP to the interior finishes and colors. Construction documents serve two purposes: to apply for (and receive) a building permit from the city or other local authority and to construct the building. 
CONSTRUCTION ADMINISTRATION
Hight Jackson can act as an agent to coordinate and observe all phases of a construction project, whether it is one of our projects or if we are hired as a third party intermediary. We can provide submittal review, construction progress review and recommendations for payment, preparation of change orders, along with other administrative services to ensure full, timely, and proper performance of all contracted parties.
MASTER PLANNING
Architectural master planning is often a good first step in the design process. The master plan creates a framework in which the whole project proceeds. During this process, we examine surrounding infrastructure, and local government requirements, as well as the goals of the project, specific facility needs, and other essential elements. Our team can outline all aspects of the project, including budget, structural requirements, shapes, views, setbacks, and provide options. Defining these aspects of the plan helps eliminate design options and narrows the focus of the project. The master planning process results in improved communication and a coordinated effort within the design team. Developing a master plan provides information on ultimate capacities and life expectancies of your facilities, while also providing an outline for the future.
EXISTING FACILITIES ASSESSMENTS
We offer architectural assessment of existing buildings, beginning with a coordinated look at the site, the building, and the applicable building codes and standards that apply. The primary focus is on life safety, building codes, site condition, building envelope, interior components, building systems, and accessibility. Each of these factors can help determine the next steps for your building, whether it is renovation, demolition, or maintenance. Prioritizing items and determining economic feasibility are part of the assessment. Other important considerations are staffing analysis and life cycle costs analysis. We can provide a thorough report for your use as you proceed with the determined building needs. A report such as this is also helpful as a first step in a master planning study.
CODE ANALYSIS AND ADA ASSESSMENT
Our team stays current on all building codes, fire, life, and safety codes, as well as specific ADA requirements, and can provide a detailed code analysis and ADA assessment for any facility.
FEASIBILITY STUDIES
An architectural feasibility study investigates and evaluates the potential of a site or building.  The study will verify what goals can be met within the confines of the site, building, and zoning code. Our feasibility studies are always tailored to meet a client's needs. They can range from a relatively simple assessment to a complex review of various sites and potential uses. In each case, the project is appraised, and options are identified and discussed with the client so that a determination is made whether to proceed with the development of the project. As part of this study, we analyze site constraints, space planning, zoning codes, and any special designations of the property.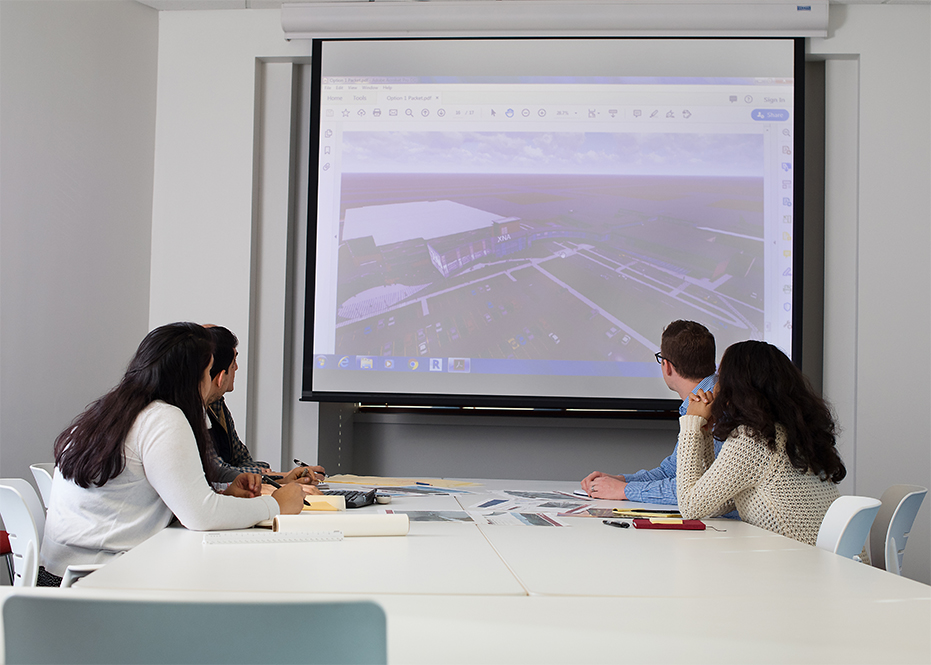 RENDERINGS
Renderings serve as important visual tools to communicate with clients, professionals, and the public the project concepts and design intent. They are helpful in fundraising and capital campaigns, as well. We can provide our clients with realistic architectural renderings for visualization of their project design that help convey ideas and showcase projects long before they are built. 
3-D MODELING AND FLY-THROUGHS
Building Information Modeling (BIM) software allows us to create 3-D models for our clients which can help communicate the aesthetics and functionality of a proposed design. These are especially helpful in generating "buy-in" among decision makers and end-user groups. In addition, this can help identify issues early in the planning process. Having the ability to view your project in a 3-D animated format (Fly-Through) enables you to get a feel for the layout and flow of the overall project, before making any large financial investments.
INTERIOR PLANNING AND DESIGN
Our team provides a full range of interior design services including space planning, lighting design, material and color selections, and furniture selection to complete our clients' projects, or as a stand-alone project. Integrating these services in the early phases of a project helps create a cohesive design.
CAPITAL CAMPAIGN ASSISTANCE
Whether you're a church, school, or non-profit, we can assist with your capital campaign through organization, communication with the community, and providing promotional materials such as architectural renderings and informational brochures.